3 Points to Style Your One-Piece Swimsuit this Summer! - Choose Your One-Piece Swimsuit
Views: 80 Author: Site Editor Publish Time: 2020-11-24 Origin: Site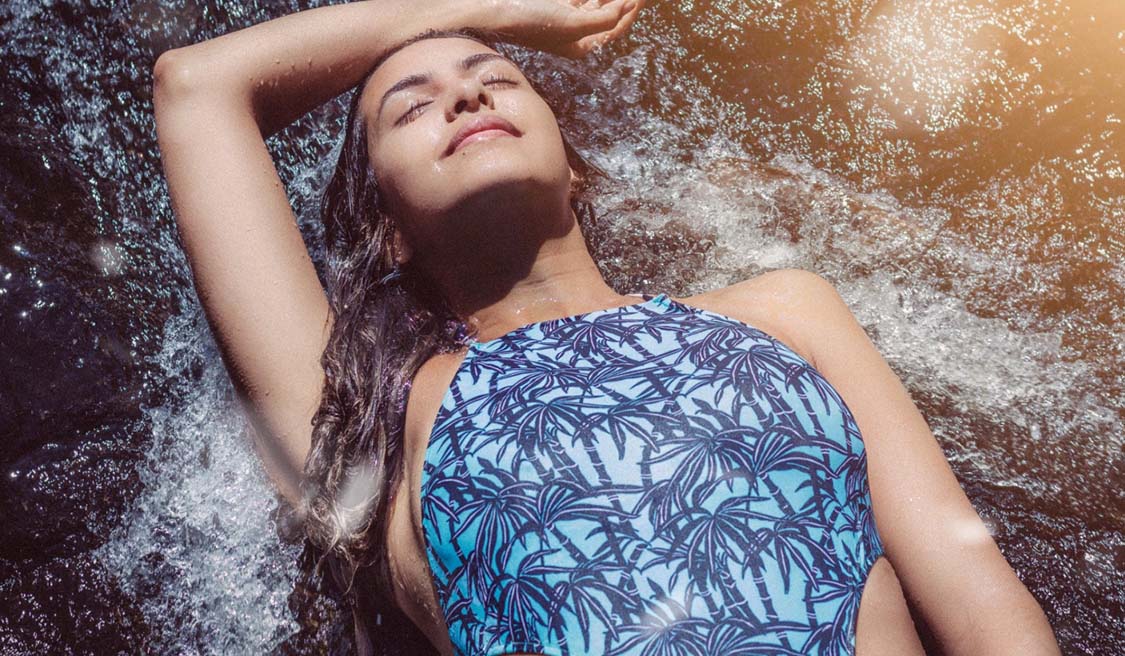 3 Points to Style Your One-Piece Swimsuit this Summer!- Choose Your One-Piece Swimsuit
The one-piece swimsuit has many styles, colors and outlines, which is suitable for people of any size. Whether it's going to the seaside for a holiday or replacing the daily tights, you can create a satisfying look with a one-piece swimsuit.
One-Piece Swimsuit With Dynamic Style
If you like dynamic style, you can choose one-piece swimsuit with bright colors and patterns. Eye catching pink one piece swimsuit, olive green one piece swimsuit or lime green swimsuit look fashionable and interesting, which has the ability to add a touch of bright color to your daily dress or beach wear, and you can easily find colorful accessories to match it. A single bright color one-piece swimsuit or one-piece swimsuit with a bright pattern is a good choice. For example, floral one-piece swimsuit and striped one-piece swimsuit.
Dark One-Piece Swimsuit
If you want to look slimmer, it is recommended that you try a solid color swimsuit with a darker color. Black, blue or purple swimsuits can make the wearer look exquisite and slim. Dark colors can cover the lines of your body, making you confident whether you are swimming in the water or lying in the sun. White or light color swimsuits will reveal the shortcomings of the body. Swimsuits without too many patterns or embellishments can also make the wearer look slimmer. Therefore, you can choose black one-piece swimsuit.
More Conservative One-Piece Swimsuit
Conservative girls can choose conservative swimsuit with skirts or flat bottoms. If you don't want to show too much, buy covered swimsuits with more conservative designs. A lot of leggings or swimsuits with skirts are also cute, which can help you avoid embarrassment. When shopping in swimsuit shops, you can ask the assistant if you have this style of swimsuit. If you can't find it, you can also try to book online.
Sexy One-Piece Swimsuit
If you like "flirtatious style," buy a one-piece swimsuit with a lace up or low-cut chest. Deep V-neckline, striped interval, or lace up swimsuit can increase the wearer's sexy index. Some simple one-piece swimsuits attract people's attention just by their inconspicuous details! In addition, the kind of hollowing design of halter top swimsuit that shows the back and only covers the chest is also unique.
One-Piece Swimsuit With Ruffles
If you think that a normal swimsuit will expose your body's shortcomings, a swimsuit with ruffles or funny patterns on the chest should be more suitable for you. In order to highlight the chest visually, it is better to have ornaments on the chest of the one-piece swimsuit. Embellishments add a touch of charm to your outfit. For example, floral one-piece swimsuit and halter top swimsuit.
Underwire One-Piece Swimsuit
If you want to enhance the support effect of the upper body of the swimsuit, you can choose the one-piece swimsuit with steel ring. Whether it's lying around the pool or wearing a one-piece swimsuit for a date, the comfort of underwire one-piece swimsuit and the support for your chest won't disappoint you. The built-in steel ring also has the function of lifting the chest and shaping. Many swimwear sizes are based on the size of the chest. Underwire one-piece swimsuit is especially suitable for girls with full breasts.