Do You Know the Craftsmanship of Bikini ?
Views: 83 Author: Site Editor Publish Time: 2020-08-04 Origin: Site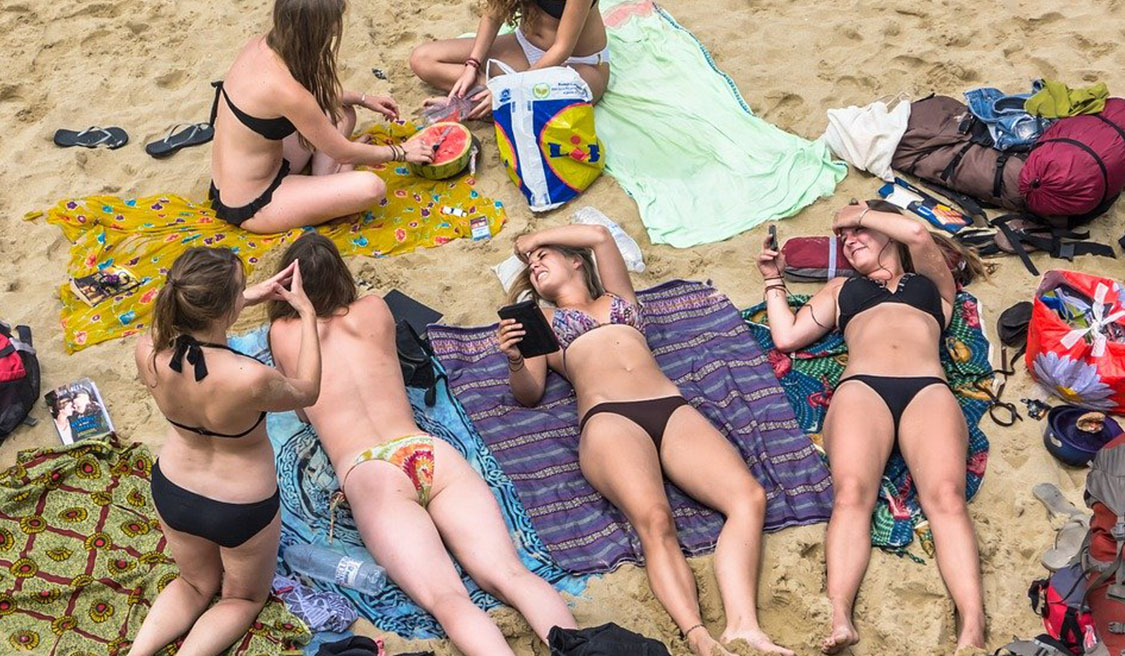 Do You Know the Craftsmanship of Bikini ?
Production process of bikini
In the history of the development of bikinis, there have been many types of bikinis, such as bikinis without tops (top-lesssuit), unstructured bikini, inflatable bikini, etc.
The fabric material of the bikini is mainly divided into the initial model, leather model, solar model and 3D model.
The initial model
On July 18, 1946, the bikini designed by Louis Rilder used fabric printed with a newspaper content section.
Leather model
At a spring and summer press conference in 2006, a fashion brand introduced several classic hollowed-out bikinis, using shiny leather as the fabric, just like a diving suit. Walking in the sun, the sensitivity increases exponentially. Halter top bikini is also one of the popular styles on the market.
Solar models
In 2011, a US company designed a solar bikini that could power MP3. This bikini swimsuit uses a series of conductive threads to sew 1-inch and 4-inch thin and flexible photovoltaic film strips. It can supply 5 volts, connect to a USB device, and charge mobile phones or MP3 players.
3D model
On August 21, 2012, the world's first bikini swimsuit "printed" using 3D printing technology was launched for sale. It uses nylon 12 as a manufacturing material and uses a technology called "selective laser sintering (SLS)". Countless circular sheets are connected with very thin ropes, and the "cloth" of the swimsuit is woven. The designer changes the size, distribution, and connection of the round slices to ensure that the swimsuit should be firm.
The cultural characteristics behind the bikini
Suitable crowd
Bikini with steel underlay and sponge-lined top is suitable for women with flat chest. For example, these two styles of bandeau bikini top and push up bikini tops are most popular with flat chested women. The two-piece lace-up type with very little material is more suitable for women with appropriate fullness. The strapless tube top is more suitable for plump women.
Wearing hazards
The study found that as bikini fabrics are used less and less, the incidence of skin cancer is also increasing. If the bikini area gradually "shrinks", it will expose about 90% of women's skin to harmful ultraviolet light. In addition, people associate bronze skin with "sexy, young, healthy, and wealthy". Whenever possible, they go to sunbathe or go to the beauty salon to "tanning", which greatly increases the number of people with skin cancer.
Therefore, if you wear short bikini sets, you must pay special attention to the skin that is exposed to the sun, and sun protection should be done. Sometimes you can choose long sleeve swimsuit or full body swimsuit.
Cultural connotation
Bikini is synonymous with soft and natural body curves. Bikini is not only a costume, but also a symbol of human freedom and liberation. It was one of the important symbols of modernist culture in the 20th century and was quickly accepted by postmodern society. Bikini has become a symbol of expressing various concepts of post-modern culture, showing women's attitude towards life that loves sports, focuses on fashion, and advocates health. Women who like walking on the beach can also buy sport bikinis.
Must-have items for bikinis
The must-have items for bikinis are tulle tops and woven straw hats. The tulle top with light color and light texture is paired with the bikini, which can not only reveal the sexy bikini vaguely, but also play the role of sunshade. In addition, the unique visual combination can also make women the focus of attention on the beach. The hollow straw hat looks cool and refreshing. It can match any style and color of bikinis, which can increase its cooling coefficient. The mottled images left on the body and face when exposed to sunlight give women a beautiful beauty. If you feel that the shade is not enough, you can wrap the straw hat with a beautiful silk scarf.