How to Choose Bikini Swimsuits Correctly?(Two)
Views: 88 Author: Site Editor Publish Time: 2020-10-20 Origin: Site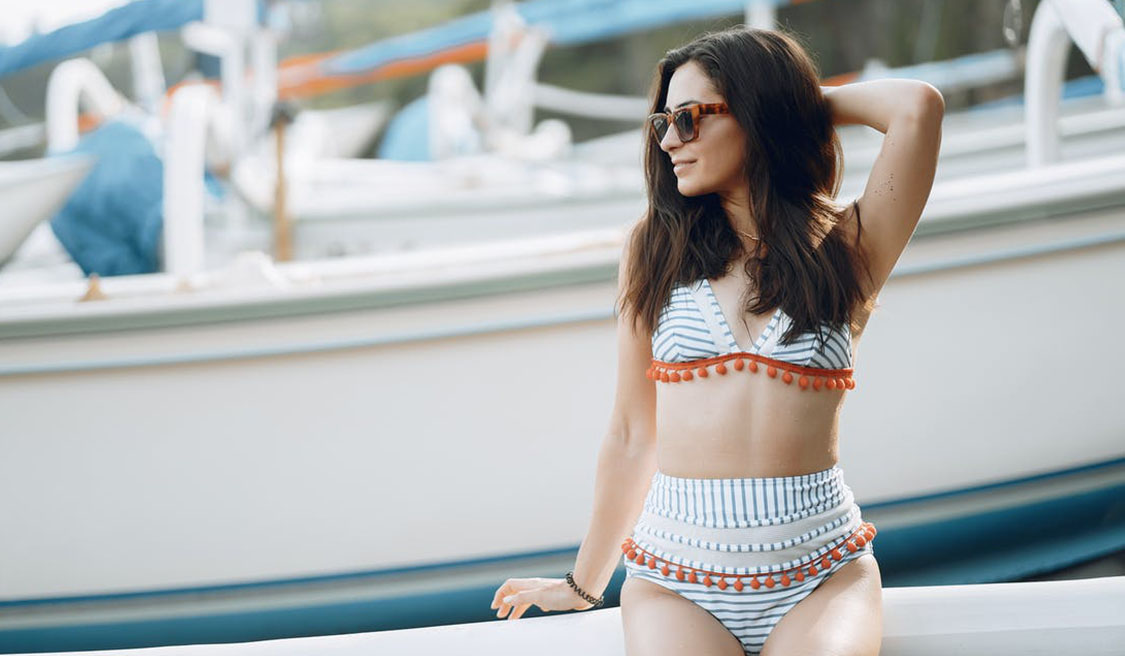 How to Choose Bikini Swimsuits Correctly?(Two)
After knowing how to choose swimsuits and swim shorts separately, we also need to know how to match swimsuits and swim shorts together.
1. How to Match Swimsuits and Swim Shorts
(1) If Any Part Is Needed to Be Highlighted, Let the Color of That Part Be Lighter
For example, if the chest is needed to be highlighted, wear a light blue swimsuit with dark blue swim shorts.
(2) Color Matching
Swimsuits and trunks should be of the same color system (i.e. only slightly different in depth), or light color with white or black, or all jewelry tones(such as dark purple with dark blue), or two neutral colors matching together.
(3) Do Not Care About Different Sizes
If the chest is smaller and the hips are larger, choose a small or medium size swimsuit and a large size ladies swim shorts. In other words, swimsuits and swim shorts do not have to be in one size, just well-fitting.
2. Swimsuits Should Be In Line With Their Own Age And Taste
Wearing inappropriate swimwear can also bring embarrassment. Here are the basics of choosing the right swimsuit.
(1) If the Chest Is Above C Cup, Do Not Wear a Halter Swimsuit
Because a full chest is likely to slide out from both sides, it is best to wear a supportive swimwear for big busts or swimsuits for big busts with underwire.
(2) Thong Is Better to Appreciate Far Away
Generally speaking, thong has little effect on the body. And to most people, thong is still too revealing.
(3) Skirt Swimsuits Are Suitable for Old Women
Try not to wear skirted swimsuit unless it is a more fashionable one with frills. There are many swimsuits for older women and swimsuits for older figure, try to find your most suitable swimwear!
(4) Wear a Thin Blouse When Going Back And Forth Between the Changing Room And the Beach or Pool
The blouse itself is very beautiful, and it also makes it less awkward to walk through the crowd before going into the water. Thin blouse should be easy to wear and take off.
3. Wear Swimsuit with Confidence
If people always bend their back and feel not confident, even the best boutique swimwear in the world will be overshadowed on the body. Therefore, show a good figure confidently. Straighten the body, stretch back the shoulders and raise the chin highly, with a smile and confidence.
4. Tips
(1) Bikini must be well-fitting, otherwise the discomfort will be exposed soon.
(2) It is dangerous to wear a narrow strappy one piece swimsuit on the seashore with large waves, so put the spare shoulder belt beside to prevent the shoulder belt from breaking.
(3) Go to a swimwear online shop that sells swimsuits and swim shorts separately, and select different models of swimsuits and swim shorts suitable for the body shape. It is reasonable to purchase swimwear and swimwear briefs separately.
(4) Choose a style that the straps on both sides of the swimsuit can be relaxed or tightened. When the body shape changes, it can be used to adjust the size of the swimsuit.
(5) Swimsuits and trunks can also be mixed in different colors. So choose the swimsuits and trunks that show personality.
(6) Do not buy bikinis to please men. If a man asks a woman to wear a bikini, it only shows that he covets her body.
Do not think the bikini worn last year will be suitable for this year, because the body shape and skin color will often change. So try on the old bikini before it is worn.