How to Choose the Most Suitable Two Piece Swimsuit?
Views: 84 Author: Site Editor Publish Time: 2020-07-21 Origin: Site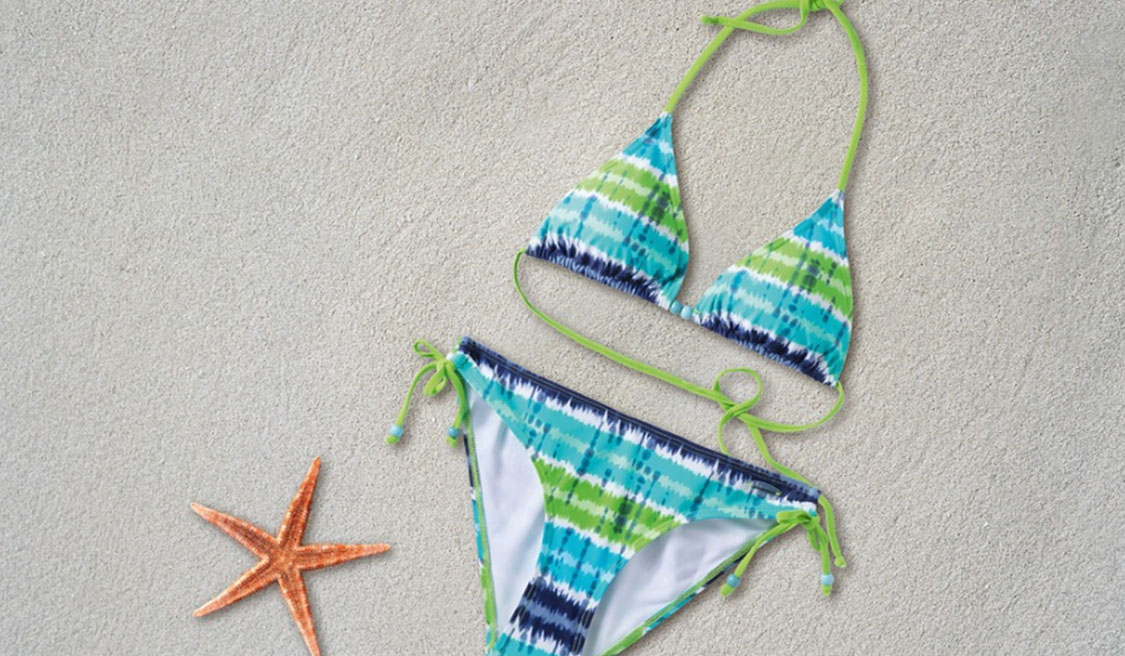 How to Choose the Most Suitable Two Piece Swimsuit?
Many fairies like the two piece swimsuit style when they choose swimsuits, because they are easy to wear and very sexy. So how to choose the two piece swimsuit?
1.Sexy Tulle Sense Two Piece Swimsuit
The sexy tulle sence two piece swimsuit is more feminine and has a hazy beauty. If you don't have a tummy, you can be confident to choose a split style swimsuit. Wear a sexy bikini when you are in the water to show your good figure; when you want to go ashore, you can wear the lace suit, with femininity and a little girlish
2.Pure Two Piece Swimsuit
If you are a pear shaped young girl with a lot of meat in the chest and buttocks, you can choose a thick shoulder split swimsuit. Thick shoulder straps reduce the shoulder width and make your shoulders look narrower. The tail of the coat with a little lace can achieve a thin effect. The skirt of the lower body is also simple and clear. It can lengthen the leg curve and show its height and playfulness at the same time. If you are a lovely pear shaped young girl, you can choose this swimsuit.
3.Vest Two Piece Swimsuit
Vest two piece swimwear is generally fresh and lovely in color matching. The simple waistcoat design is suitable for the girl with flat chest, because the collar with big round edge shows the clavicle. The skirt on the lower half of the body can cover the thigh, which is low-key and playful. If you like fresh colors and simple two piece swimwear, you can choose this style.
4. Casual Two Piece Swimsuit
Some girls have been pursuing the effect of low-key and thin in choosing swimsuits. If you are a chubby girl with more flesh on her arms and thighs, but thinner waist, you can choose such a casual swimsuit. White brown color is natural and has the style of Korean girl. The design of pleated short sleeves on the upper body is conservative and convenient. The pleats on the chest add a sense of hierarchy to the whole, making the upper body look thinner. It's a good effect to cover legs with brown baggy shorts on the lower body. This simple swimsuit can be considered by chubby girls.
5. Middle Sleeve Lace Swimsuit
The middle sleeve lace swimsuit is more suitable for girls with thick arms and wide shoulders. The design at the shoulders can show your collarbone lines well and reduce the shoulder width. If you don't know how to choose all kinds of fancy swimsuits on the market, you must be right to choose this one.
6. Black Lace Two Piece Swimsuit
Black lace swimsuit can be said to be full of femininity and suitable for girls who usually take sexy route. The long sleeve style is full of mystery, which can cover your fleshy arm. The lower body is matched with a small skirt with black lace, which is simple but not monotonous. If you want to be conservative and sexy, you can choose black lace two piece swimsuit, which is very suitable for you to wear when you go to the seaside.
When you buy clothes for yourself, you need to know what style suits best and choose two piece swimsuits carefully. Welcome to visit our website to find the most suitable high waisted two piece swimsuit, two piece swimsuit with shorts, long sleeve two piece swimsuit, plus size two piece swimsuits, skirted two piece swimsuits and so on.