One Piece Swimsuit or Two Piece? Depends on Your Figure!
Views: 77 Author: Site Editor Publish Time: 2020-11-03 Origin: Site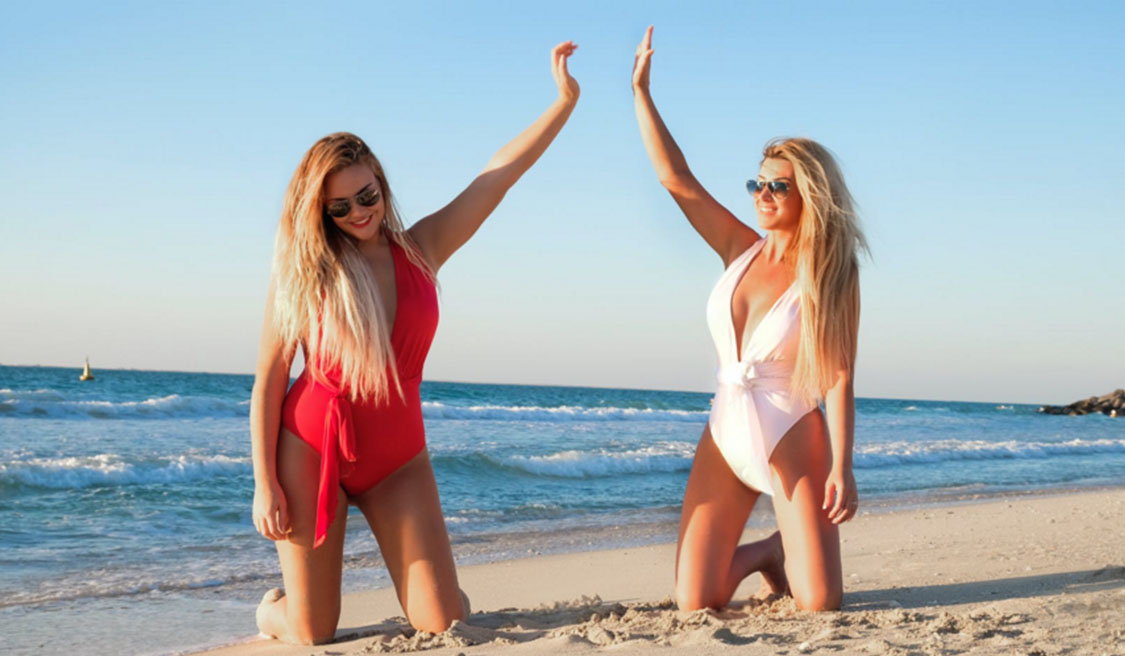 One Piece Swimsuit or Two Piece? Depends on Your Figure!
In our daily life, there are more and more people who like swimming. Swimsuit has become a kind of common clothing. So when shopping, should we choose one piece swimsuit or two piece swimsuit? Let's learn about it below.
1. Which One Is Better, One Piece Swimsuit Or Two Piece Swimsuit
Whether a tummy control one piece swimsuit or a two piece swimsuit is good depends on the size of the individual. People of different statures have different choices. The following details can be referred to.
(1) The girl with thick waist can select plus size two piece swimsuit, because it can separate the upper and lower vision and avoid the trouble of thick waist. The girl with thick thigh can select the style with skirt or flat angle to cover the thickest part of thigh. Close-fitting swimsuits are easy to expose the shortcomings of the body type, so it is more important to know how to select swimsuits by developing strengths and avoiding weaknesses. Selecting the right swimsuit can not only improve the shortcomings, but also improve the lines and regain self-confidence.
(2) one piece swimsuit can be selected if the chest is too large, because for women with full chest, they may feel uncomfortable in a swimsuit and often be afraid of exposure. May as well consider one piece swimsuit, which can not only lengthen the body line, but also reduce the chance of exposure. And the horizontal pattern can make the bust appear more flat. The combination of the two points can make the lines more even and natural.
2. Key Points Of Swimsuit Selection
(1) Skin Color Determines Swimsuit Color
Swimsuit color plays an important role in reflecting skin color and modifying body shape. Black can properly cover up the lack of body shape. If the complexion is a healthy brown, then it is suitable for warm-toned swimsuits, such as red, orange and other sunnier colors. If the skin color is white and not easy to be tanned, cool colored swimsuit is a good choice, such as navy blue swimsuit, light blue swimsuit, baby blue swimsuit, purple swimsuit and other calm and elegant colors.
(2) Style Selection According To Body Type
① Trikini
A trikini is the best choice if people have great figure, absolute confidence and the courage to show their charming posture.
② Two Piece Swimsuit
Two piece swimsuits are popular these days. Because it is not too naked and full of youthful vitality, it is greatly loved by female friends. Among them, the top has sling type, vest type, etc. Swim shorts has high waist type, boxer brief type, etc., and most of them are matched with draped skirt.
③ One Peice Swimsuit
Full body swimsuit is a traditional swimsuit, which can cover more skin. There are also many styles of one piece swimsuits, healthy sports type, fashionable one shoulder type and so on. They are all good.
Especially for girls with fat belly, they can select the high waist two piece swimsuit to cover the fat. This swimsuit has the effect of smoothing the fat belly, but other ordinary one piece swimsuits have no such effect. There are also skirted swimsuits with special designs on the belly, such as ruffle design, which can easily cover the belly, and look like a mini skirt, sweet and light.